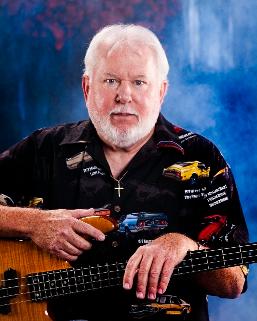 David Stanley-Born in Tyler, Texas -June 3, 1946.
Dave started playing string bass and guitar at the age of 13. At that time he had to stand on a chair to reach the neck of the string bass. He played for anyone who would listen-wrestling matches, talent shows, lake parties, and East Texas Honky-Tonk bars where he didn't get kicked out for being under age.
In 1965, after attending Tyler Junior College (Computer Science and Business), he and Ronny Weiss (Mouse) formed Mouse and the Traps. That same year they recorded their first chart single "A Public Excecution" for Fraternity Records. From 1965 to 1970 they recorded fifteen more 45 RPM's and toured extensively throughout Texas, Arkansas, and Louisiana doing concerts with such artists as Vanilla Fudge, Booker T. and the MG's, The Mamas & The Papas, Bobby Vinton, B.J. Thomas, and Joe Stampley. In 1970, Dave and Mouse recorded and album for RCA records under the name of Rio Grande.
Dave also worked as part of the rhythm section at Robin Brian's studio in Tyler. He played electric bass with this rhythm section and recorded with such artists as Nat Stuckey, The David Houston Band, Joe Stampley, Bruce Channel, John Fred and the Playboys, Tony Douglas, Lonnie Mack, Doug Kershaw, Bee Bumble and the Stingers, The five Americans, The In Crowd, and many more.
In 1973, he moved to Dallas and played on commercials and jingles for Bell Telephone, Burger King, Dairy Queen, Astro World, Six Flags, American Airlines, Decker Meats, Wolf Brand Products, What-A-Burger, Borden's, Bill King's Brake-O, Jimmy Dean Products, Chevrolet, and Chili's, etc. He wrote and played on commercials for Lone Star Beer, Levi Jeans, and Shiner Beer. He was involved in the "Don't Mess With Texas" campaign featuring Mason Dixon. He played bass on Benji (a children's movie album) and did many other industrial films and I.D.'s for radio stations. He played with Freddy Fender on Coca Cola commercials and several of his albums. He also played bass on two Delta records albums with Johnny Gimble. Other album projects include Mickey Gilley, Shoppe, The Van Dykes, Audie Henry, Leon Rausch (of the Texas Playboys) and his own Rock-A-Billy album "American Boy".
While in and out of the Texas area, he has played with Gladstone (2 albums), Calico (2 albums), Fancy Space and the Rockin' Rhythm Daddies with Bugs Henderson, Kinky Freidman and the Texas Jewboys, B.W. Stevenson, Delbert McClinton, Lone Star Boogie Kings, and Kenny Davis. He also appeared on numerous television programs such as the Midnight Special, That's Incredible, Up Beat, Nashville Network's Video Country, and a special produced for the British Broadcasting Corportation. He has also played in concerts and toured with Willie Nelson, Emmylou Harris, Bonnie Raitt, Jimmy Buffet, Steely Dan and John Belushi. In 1988, Dave, his brother Larry Stanley, and Ken "Nardo" Murray started their own company called L.S.B.K. Music from which their original country comedy group, The Lone Star Ramblers was formed. The Ramblers were a featured act at Dolly Parton's theme park in Tennessee, "Dollywood" where they appeared on the TNN special Sunset Music Fest with Dolly. They are also included in the nationally televised promotion for the park. The group has recorded ten albums and produced two videos. They also performed each year at the STate Fair of Texas and were sponsored by Southwest Airlines.
Dave is also involved in the performing and production of music videos for various rock and country artists, including his own music. David Stanley: bassist-producer-writer-artist EXTRAORDINAIRE!!
Larry Stanley was born August 1, 1944 in Kalamazoo, Michigan. At age 2 his family returned to Tyler, Texas. Larry can remember from as early as age 5 being interested in singing and playing guitar. The first major artis to influence him was Elvis. He was given his first guitar on his 12th birthday. At 15, Larry was picking and singing on shows with many people such as Hank Williams Jr., who was singing with Hank Williams, Sr.'s band, The cheating Hearts, Johnny Cash, George Jones, and the late and great Johnny Horton and Jim Reeves. He recorded his first record at Brian's Recording Studio in Tyler, Texas when he was a Senior. The title of this first record was "Larry's Tune". Later he recorded three other records. Larry studied music in college and payed string bass in the East Texas Symphony Orchestra.
Larry did tours with Ray Price and big band leader Les Elgart. Starting in the mid 60's, Larry had his own band, The Larry Stanley Band, which played in Texas, Louisiana, and Arkansas. HIs band played all kinds of music ranging from jazz, country, pop, rock, blues, and Latin and appeared with such artists as Mitch Miller, Bobby Crosby, The lettermen, Ray Charles, Jimmy Reed, Mo Bandy, Joe Stampley, Conway Twitty, and John Phillips from the 60's group The Mamas & The Papas. In the early 80's, Larry worked at Rosewood Recording Studio in Nacogdoches, Texas where he played and sang radio commercials. This led to Larry playing guitar on an album with Willie Nelson and Johnny Bush, seven albums with Johnny Gimble, and an instrumental album with Hank Wiliams, Sr.'s band The Cheating Hearts. He was also involved with co-producing an album with Leon Rausch and the original Bob Wills Texas Playboys.
In 1988, Larry dissolved his band and helped form The Lone Star Ramblers, a country comedy act consisting of Larry, his brother David Stanley, and Ken "Nardo" Murray. They have entertained numerous times at South Fork Ranch where the TV show Dallas was filmed and are also featured at the State Fair of Texas. The Ramblers have been a regular act at Dollywood, Dolly Parton's theme park in Tennessee. They have recorded ten albums and he was also involved in the production of videos for the group. They have been the opening act for Lee Greenwood, Ray Sstevens, Ricky Scaggs, Mel Tillis, Tammy Wynette, Sawyer Brown, Earl Thomas Conley, Ronnie Milsap, Nitty Gritty Dirt Band, and Roy Clark.
Besides being an accomplished guitarist, Larry is a versatile entertainer who can liven up an audience with a rowdy honky-tonk number or move them with the feeling he puts in a love song. He infects crowds with his high energy guitar playing and often involves them in his performances with sing-alongs, hand clapping, and astonishing the audience by playing his guitar above his head or picking it with his teeth, never missing a beat and never hitting a wrong note.
When at home in Tyler, Larry can also be found writing music, giving private lessons, directing the church choir and operating a recording business.
Larry believes that after all this time in the music business, he can play guitar a little better, but it seems he just can't shake that leg quite as fast!
Ken "Nardo" Murray, Manager of American Drum Shop, has built an amazing career as a professional drummer and a highly respected musician.
Born in Tyler, Texas October 6, 1950, Nardo started playing drums at age 11.
At the age of 14, he was the original drummer for the legendary "Mouse & The Traps. Nardo played on all 15 singles and two albums, Rio Grande, on RCA, and A Public Execution, on Eva Records. Three of the singles were released on Rhino Records in the 80's, and a new album on ACE Records, with several unreleased cuts, was released in the late 90's.
From 1970 to 1978 he was on the road with acts Salt & Pepper, The Drifters, Coasters, and Chuck Berry, and recording commercials for Dairy Queen, Phillips 66, Zebco, Haggar, Church's, and Lone Star Beer. His busy schedule also included records by Ike & Tina Turner, Joe Stampley, Lonnie Mack, Bruce Channel, Leon Rausch, Johnny Paycheck, and many others.
1978 saw Nardo move to Las Vegas and direct the 18 piece Nardo Lee Orchestra at the Silverbird Hotel for the Johnny Harra Show and perform on the Merv Griffin Show, 20/20 News Magazine, Jerry Lewis Telethon and BBC Special.
In 1981 he returned to Texas and was voted into the prestigious Texas Musician's Hall of Fame, and Buddy Magazine's Texas Tornadoes.
Nardo's attention turned to Tennessee in 1988 and he helped form The Lone Star Ramblers and invented the focal point of the group, the "Rambling Machine Mark V"...drums on wheels..with horns, bells, bubbles, fireworks, battery operated P.A., and electronic drum machine and sound effects. A modern day Spike Jones. The Ramblers performed for 9 years at Dolly Parton's them park, Dollywood, and were one of the most popular groups at the park. While at Dollywood, they performed in many commercials, the video "The Race Is On" for Sawyer Brown, and a special on TNN...The Sunset Music Festival. They also performed at the largest state fair in the world, the State Fair of Texas, 24 days every October for 8 years. The Ramblers have brought out the comedic personality of Nardo and have shown his quick wit and improvisational mind.
Coming back to Texas in 1997, Nardo has embarked on a new chapter in his career, teaching young kids all about drums, drumming, music, and the life of a professional musician. To sum it up, a total entertainer and musician.
One of a Kind..."NARDO"